Profile

Free Account
Created on 2009-05-01 06:27:27 (#149163), last updated 2013-05-18 (201 weeks ago)
27,084 comments received, 24 comments posted
2,732 Journal Entries, 114 Tags, 0 Memories, 15 Icons

About

Mini Bio

I'm Sally.
My good qualities involve enthusiasm, an ability to produce comedy rants on demand, an endless stream of useless facts about the history of paper and parchment and a passion for whatever has caught my attention most recently. I love my close friends like family, and I am quite capable of savaging with my teeth anyone who hurts them.
My bad qualities involve unreliability, a tragic lack of practicality, and a definite tendancy to occasionally explode into fits of insanity and overreaction.
My hair is kinda chestnut, I like the colour red, soft shawls, hedgehogs, cats, and penguins.
If you ever want to get me stuff,
I've got an amazon wishlist
and I'm also currently strangely entranced by
Black Phoenix Alchemy Laboratory
.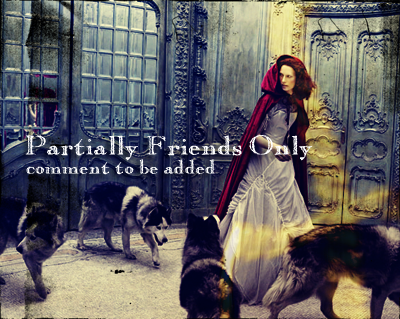 If you want to find me elsewhere on the internet, I'm on facebook under my real name, and am
on myspace as well.
I think I'm also annwfyn on Blogger, and have a livejournal dealing more with my work and study as a conservator as
surinen
. This livejournal tends to mostly be friends only, for a variety of reasons. I don't have a friending policy per se - I'm more likely to friend people I know, but it's not a hard and fast rule. You don't need my permission to add me, but I won't add you back immediately unless I know you in real life.
My layout was made by
tasha
on
premade_ljs
. My colorbar comes from
magic_art
. My friends only banner comes from
unexpectedbox
.
(see - I can credit people for work they've done! I just have this bad habit of collection LJ icons from random places and then forgetting where I've got them. If I've got an icon of yours and it's important to you that I credit, please drop me a line and I'll happily stick it in)

Connect

People
[View Entries]

Communities
[View entries]

Member Of (4):

Subscriptions (3):

Administrator Of (0)

Feeds
[View Entries]

Subscriptions (0)

Linking
To link to this user, copy this code:
On Dreamwidth:
Elsewhere: